SemanTer is a mobile summarizer for iOS, Android and Fire OS, which creates summaries for iCloud & local files (PDF, DOC, DOCX, RTF, TXT, XLS, XLSX, PPT, PPTX) and web pages.
A history of SemanTer began in 2011 when two scientists, Irina Iegorova and Stanislav Iegorov, invented unique method for text processing. Method is based on mathematical approaches and artificial intelligence (AI) and allows to create summaries of highest quality for texts of any size, topic and language.
In 2013 we developed first version of SemanTer for desktop PC, implementing our method. However, we realized that such application might come in handy any moment and it would be quite useful to have it in your pocket. So, in January'16 we presented mobile version of SemanTer for Android and iOS devices. We had been constantly receiving feedback from users, who were very interested in summarization of PDF-documents in particular. Considering that, totally new SemanTer appeared in summer '17. Using SemanTer you can summarize not only PDF but also many other document formats in 16 languages.
---
With a help of SemanTer any mobile device can be turned into powerful tool for creating summaries of highest quality.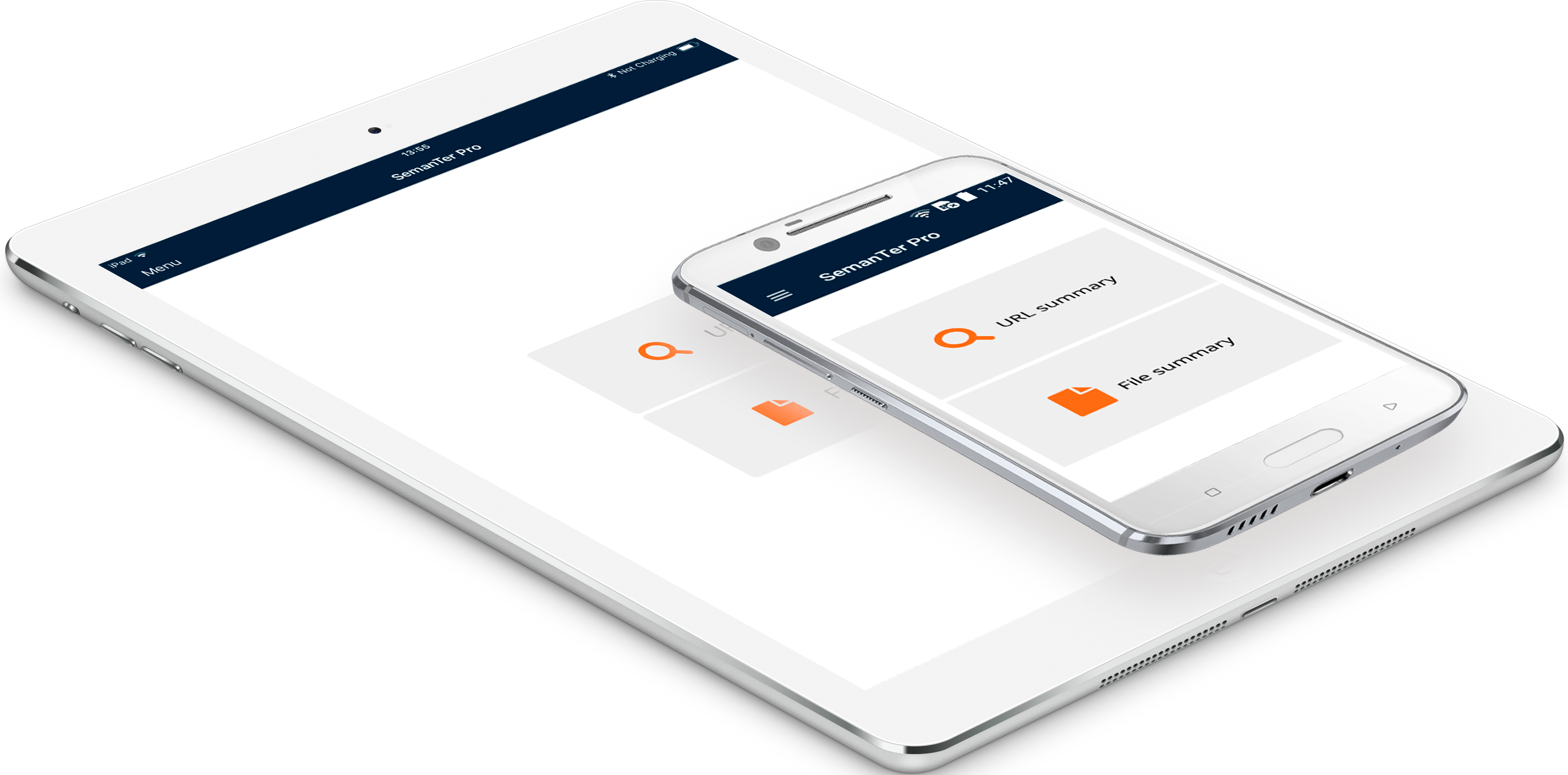 Two main and unique features of SemanTer - high precision and multilingualism.
Precision - in contrast to existing text summarizers, which use simple algorithms - deleting part of information from beginning, middle and the end of an article, summary tool SemanTer is based on SCIENTIFIC SEMANTIC APPROACH. As a result - you have summaries of highest precision with no random sentences.
Multilingualism - due to fact that SemanTer is grounded on math, it provides full language independence. Now the text summarizer is optimized for the most effective summarization in sixteen languages: English, German, French, Russian, Chinese (limited), Dutch, Danish, Czech, Finnish, Italian, Portugal, Spanish, Romanian, Norwegian, Hungarian and Japanese (limited).
---
Features list of SemanTer is not limited to above mentioned. How to find out all the power of text summarizer? Give it a TEST!
Prepare to tests or exams.
Businessmen and Investors
Educate yourself, be in trend and ahead of your competitors.
Pick up the most relevant information for your website, newspaper, journal, etc.
Come up with exact conclusions and recommendations.
Scientists and Researchers
Keep up-to-date with latest discoveries and achievements.
Stay in touch with all events in the world.
We can make this list longer but in fact almost any person can benefit from the text summarizer right now. Taking into consideration day-by-day growing amount of information around us SemanTer is a very handy and demanded tool.