Summary - is SemanTer
Mobile application for summary creation
SemanTer turns lengthy process of summary writing (read text - pick up essentials - create summary) -> into precise summary.
Using SemanTer, you get summaries of high precision for web-documents in different languages with variable compression ratio.
Summary = SemanTer!
SemanTer is a mobile application for iOS and Android, which creates summaries for web documents. Summary tool enables any person to read faster by compressing text and preserving essentials.
In a way it works like a human brain - after reading some article you don't memorize all words and phrases but you remember main facts and ideas. SemanTer does exactly the same but instantly.
Using our text summarizer you can save huge amount of time and go directly to text essentials without reading a whole article.
Moreover, you can adjust summary size - how big your output text will be comparing to original text.
In our humble opinion SemanTer can revolutionize our lives like a phone - you don't have to waste much time walking to a person and talk - you can just dial, so with text summarizer you don't have to read whole text to get the meaning - just use SemanTer.
Two main and unique features of SemanTer - high precision and multilingualism.
Precision - in contrast to existing text summarizers, which use simple algorithms - deleting part of information from beginning, middle and the end of an article, summary tool SemanTer is based on scientific semantic approach. As a result - you have summaries of highest precision.
Multilingualism - due to fact that SemanTer is grounded ON MATH, it provides full language independence. Now the text summarizer is optimized for the most effective summarization in fifteen languages: English, German, French, Russian, Chinese (limited), Dutch, Danish, Czech, Finnish, Italian, Portugal, Spanish, Romanian, Norwegian and Hungarian.
---
Finally, SemanTer gives you an opportunity to get way more information in the same amount of time or vice versa - spend way less time to get the same amount of information.
Who can benefit from using SemanTer?
Students - in preparation to tests or exams. When you have to read lots of books, articles, documentation, etc. in a limited amount of time to meet your ETAs and pass exams successfully.
Businessmen and investors – you need to read news, articles, books to educate yourself and other information to be in trend, see new opportunities for your business on existing markets, searching for new markets and projects...
SemanTer can give you most valuable asset – time
News agencies – you're reading daily your competitors, another news makers from different part of the world, lots of other sources of information and picking up most interesting and relevant information for your website, newspaper, journal, etc.
Analysts – you need to "digest" lots of information from variety of sources to come up with exact conclusions and recommendations.
People reading news – anyone who wants to be up to date with all events in the world, in particular sphere and so on.
We can make this list longer but in fact almost any person can benefit from the text summarizer right now. Taking into consideration day-by-day growing amount of information around us SemanTer is a very handy and demanded tool.
Thanks to our patented algorithm every summary accurately preserves meaning of source text. Precision is nearly independent from both source text and summary volumes.
Make summaries for texts in English, German, French, Russian, Chinese (limited), Dutch, Danish, Czech, Finnish, Italian, Portugal, Spanish, Romanian, Norwegian and Hungarian. If you wish to have your language listed – just give us A HINT.
SemanTer not only helps to get precise summary for minimum time, but it helps you to process such volumes of information, which a human being simply cannot handle on it's own.
SemanTer - Text summarizer helps you to find exactly what you need in terms of content in any paper.
You can create summaries with predictable volumes and (if needed) adjust this volume at any moment – summary remains precise.
Text size – is not a problem. SemanTer works with really huge texts.
In sake of simplicity we've created two-layered user interface.
All preset. SemanTer gives you two options of usage:
1. SHARING
SHARE - press "Share" button (marked by red ellipse) while in any app (like web-browser, news app, etc.).
CHOOSE "Share with SemanTer" option. If you don't see it (which is normal when you use sharing for the first time) - tap on More and SWITCH it ON.
POPUP - after popup is shown start SemanTer manually.
SUMMARY - press Summary button.
DONE - your summary is ready.
For Android users: you skip POPUP step. All other steps are the same: SHARE -> CHOOSE -> SUMMARY -> DONE.
OPEN embedded browser by tapping "Magnifier" button (marked by red ellipse).
SEARCH for a page you wish to make summary for.
SUMMARY - tap "Summary" button.
DONE - your summary is ready.
Here you have more control on summary creation process. You can change search engine, adjust summary size, summarize selected text block and access recent summaries history.
1. DEFAULT SEARCH ENGINE AND SUMMARY SIZE
Settings screen allows you to change preset search engine and summary size value.
Default search engine is Google but you can change it to your own taste.
Preset value for summary size is 40% of original text which is optimal for most cases, but you can adjust it any time.
First two steps to access Settings screen are the same for both options:
MENU - swipe to the right from any screen to open menu and press "Cog" button (marked by red ellipse) to access Settings screen.
SETTINGS - choose one of options and set them to your needs.
SEARCH ENGINE - when you set search engine it will appear in embedded browser window as a start page.
SUMMARY SIZE - now all your summaries will be created with chosen size. You can change this value as many times as you wish.
Press Back button to exit from Settings.
P.S. SemanTer won't lose a thing – meaning of every text is carefully kept in each summary.
2. SUMMARY FOR SELECTED TEXT BLOCK
You can create summaries for selected text on a screen while in embedded browser:
TEXT BLOCK - select any text block on the screen and press "Copy for summary" (iOS) or "Copy" (Android). Then press Summary.
TEXT BLOCK SUMMARY is ready.
Tip: you can also adjust summary size here.
3. RECENTLY SUMMARIZED PAGES
You can access recently summarized pages from the menu:
MENU- swipe to the right from any screen and tap on Clock icon.
RECENT - tapping on any item leads you to corresponding web-page. You can remove any individual item by pressing item row and holding it (Android) or swiping the item row to the left (iOS). You can also clear history by pressing Trash icon in the upper right corner.

Main advantages of Pro version comparing to Free one: no ads, faster summarization and smaller app size.
We're constantly working on development of SemanTer and you can contribute to the process by buying Pro version.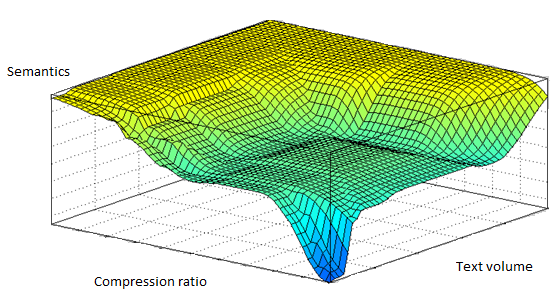 Our Method uses fuzzy logic as well for better evaluation of resulting summaries and finally – for better precision. We've elaborated dependencies of semantic level on compression ratio and text volume. Mentioned dependencies play as a basis for Fuzzy model. It enables us to get precise value of semantics level by given numbers of compression ratio and text volume.
Application implements our patented Method of semantic compression for textual information with given ratio. Method is based on mathematical logic, provisions of discrete mathematics and vector algebra, cluster analysis and fuzzy set theory.
Method works incredibly fast and almost independent neither from summary size nor from a text volume given for summary. Thousands of pages are processed in milliseconds in a cloud so an annotation processing time mainly depends on a network or broadband speed of user's device.
Cloud-based computing provides high level of security as well.